PITTSFORD, NY (July 9, 2022) – Bartley Forrester (Georgia Tech) holed out for an eagle on the par-4 17th hole Saturday on his way to a final-round score of 71 to gain a three-shot victory at the 81st Monroe Invitational. 
Round 4 Photos l Round 4 Scores
Forrester finished with an 11-under-par total of 269 for the four-round event. Jackson Chandler (Ohio State University) used a late charge to finish three shots back at 8-under 272. Luke Wells (Rutgers University) finished third at 7-under 273. 
Entering the day with a six-stroke lead after firing a six-under-par 64 on Friday, Forrester saw his lead shrink to one stroke after Chandler rolled in a birdie putt on the par-3 16th hole. 
Undeterred, Forrester hit a solid drive on 17, then used a lob wedge to hit his 72-yard approach into the hole on the fly for an eagle 2. Forrester and Jackson then each parred the 18th hole. 
"That shot (on 17) won the tournament for me essentially," said Forrester, ranked 113th according to World Amateur Golf Rankings (WAGR). "I kind of let the lead slip away on the back nine, so I knew I needed to make something happen on the final two holes. I've hit that drive really well all week and I just stood up and crushed one down the middle.  
"I'd say my wedge game has probably been the strength of my game.  So I had a good number in.  I was trying to skip it, probably land it seven, eight feet short and bounce it up there, but it ended up just flying right in the cup. I don't know if I've flown a wedge in like that before, so it was pretty cool."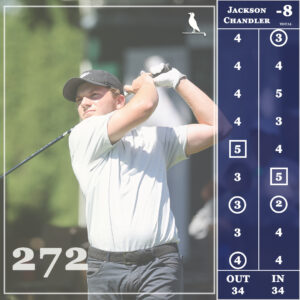 Said Jackson, whose final-round 68 was one of just four sub-par scores on Saturday: "I hit my approach on 17 to about 12 feet and then he flew his approach into the hole. It was cool to see, but kind of bittersweet."
After a bogey-free round on Friday, Forrester's Saturday score included five bogeys and two birdies. Jackson's charge featured five birdies – three on the front and two on the back. 
Wells also made a charge on the final day in finishing with a 2-under-par 68. He rolled in four birdies on the front nine and one on the back. 
"I had birdies on seven and nine," Wells said, "but I knew I would have to do something special on the back to have a chance. I tried not to think about that too much and just make it into a regular Saturday morning round of golf."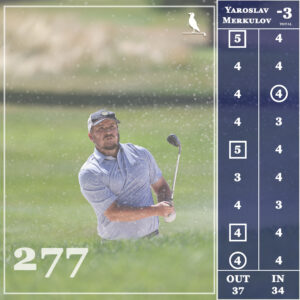 Yaroslav Merkulov had a final-round score of 71 to finish in fourth place with a 3-under-par total of 277. Former Monroe Golf Club member Christopher Blyth also had a strong finish with a final-round 68 to finish tied for 11th place with a 281 total. 
In winning, Forrester became the second Georgia Tech golfer in the last three tournaments to win the Monroe Invitational, joining Andy Ogletree, who won the title in 2019. 
"Oh it's awesome," Forrester said. "I know my old teammate Andy Ogletree won here a few years ago and a lot of other big names have won here, so it's a great golf course and I'm really excited to have my name added to the list of winners here."