PITTSFORD, NY (July 6, 2022) – New Zealand native Cameron Harlock (Boston College) used back-to-back eagles and a birdie on holes 11–13 Wednesday afternoon en route to a 4-under 66 and sole possession of the lead at the 81st Monroe Invitational. The leaderboard is jammed with four players in a tie for second at -3, three of which are part of the SEC conference in Ryan Hart (Florida), Drew Doyle (LSU), and John Broderick (Vanderbilt), to go along with Matthew Anderson (University of San Francisco).
Round One Photos l Round One Scores
Harlock finds himself at the Monroe Invitational in one of his first events overseas since the COVID-19 pandemic began. The New Zealand native was a freshman at North Texas in 2019-20 when the pandemic hit and his mother booked him a flight back home in March (2020). What he thought might be a few weeks back home turned into over two years before returning back overseas.  
After a quiet start to the day, including back-to-back bogeys on holes five and six, Harlock was able to get to +1 following a birdie on the par-5 ninth hole. That set the stage for the dramatic stretch of holes 11-13. "I felt like I had a bit of a breakthrough when I holed out for eagle on 11," said Harlock following the round. "I had a really good number and had a little bit of a backstop behind the hole so I knew I could be a little bit more aggressive, and sure enough, it one-hopped and spun back in."
It was much of the same on the par-5 12th with the Boston College-bound junior hitting a 6-iron to within five feet. "I walked off the 12th green thinking what just happened? "You expect to give yourself some chances, but you don't really expect to go from 1-over to 3-under in the span of about three holes. The 13th hole was a cherry on top," said Harlock. He finished the round with five-straight pars.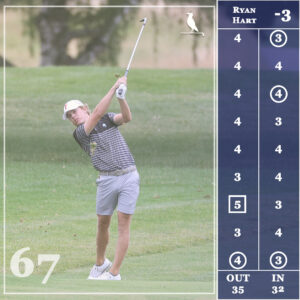 Ryan Hart is tied for second at -3
Among the four players tied for second is Florida Redshirt Freshman, Ryan Hart. Hart is the son of Dudley Hart, a PGA Tour professional since 1991, who has professional wins 1996 RBC Canadian Open and the 2000 Honda Classic. The Hart's have ties to the Buffalo and Rochester area with Dudley growing up in Hamburg. Ryan and the family moved to Buffalo around the age of four from Florida and around that same time, his grandfather and father purchased Lake Shore Country Club, located near Lake Ontario, which they still own to this day.
Ryan has had his father coach him throughout including now as an assistant coach at the University of Florida. After serving as a volunteer assistant for four seasons, Dudley joined on as a regular assistant in 2021. Says Ryan about his father as his coach, "It can be frustrating sometimes because I don't love it when he is telling me things to do everyday, but he's had a huge impact on my golf game — I don't tell him that much, but he's had a big impact."
Monroe member Owen Corby started out his day red hot, carding birdies on four of the first six holes. He hit his approach shot on the par-5 9th to within four feet and made the putt to make the turn a -5. However, he began the back nine with a triple bogey and finished his day at +3. 
Eight players sit at 2-under, headlined by Victor, NY native Aiden Spampinato (Methodist).
Round 2 tee times begin at 7:15 am on Thursday. Admission is free to the public.