PITTSFORD, NY (July 7, 2022) – Georgia Tech's Bartley Forrester carded the low round of the day with 5-under 65, moving into a tie for first place with Cameron Harlock (Boston College) at 6-under par following Thursday's second round action of the 81st Monroe Invitational. Harlock, the first round leader at 4-under, was 2-under on the second day with three birdies and a bogey.
Danny Fisher (Miami University) finished his day 4-under par and is now 3-under for the tournament and sits in a tie for third place. Will Thomson (Texas), Stephen Cambell Jr. (Oklahoma), Laurent Desmarchais (Tennessee), and Everett Whiten Jr. (Howard) are also at -3.
Round 2 Photos l Round 2 Scores
Forrester is currently ranked 113th according to the World Amateur Golf Rankings (WAGR) and has been on quite the tear recently, including qualifying for his second US Amateur Championship at the end of June after earning co-medalist honors in a 36-hole qualifier at Standard Club in Johns Creek, Ga. After his round on Thursday, Forrester said, "This past semester in college (at Georgia Tech) was definitely the best I've played so I'm glad I'm able to continue that into the summer and hopefully I can keep that going as long as I can. The game feels really good."
The Gainesville, Ga native has found birdies on the course consistently over the opening rounds, launching seven on Thursday and three in round one. His familiarity with the course having finished 20th in 2021 seems to have certainly helped out on the course. "Coming back to a course where you've already played four competitive rounds, that kind of gives you a leg up on a lot of other guys. You kind of know where to hit it already — where to miss it, where not to miss it."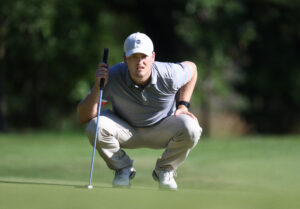 Harlock finished his round just before Forrester and was the leader in the clubhouse. Said Harlock, "I feel really good out there." "I feel comfortable off the tee which I knew was going to be important for me this week. I just need to execute the plan I've had for the last few days — I've really put myself in a good spot moving forward."
The New Zealand native is excited to ramp up the competition this summer after spending the last two years back home due to the pandemic. While the competition the last two years in New Zealand wasn't quite what he was hoping for in his young career, he says he was able to make the most of it with a competitive group of friends back home. Harlock is enrolling as a junior at Boston College this fall, so getting competitive events prior to his arrival on campus is essential. Said Harlock, "Leading into the college season I knew it was important to get out and really challenge myself this summer with some big events." "I wanted to really come out and see where my game was at — a bit of a feeler before I started college."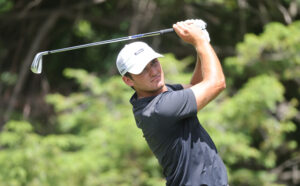 Among the notable rounds was a 3-under par for Will Thomson (Texas) who grew up in Rochester playing Monroe Golf Club prior to moving before starting high school. When asked about playing the invitational, Thomson said, "It's so much fun — I love coming back up here." Thomson is playing in his sixth Monroe Invitational this week with his best finish coming in 2018 when he was 27th. "I always miss Rochester in general — my friends, just the overall feeling; golf courses like this. It's great to come back to Monroe (Golf Club)." 
The rising senior at Texas says he basically grew up on the course and is a fan of the recent changes to the layout. "I love all the changes that they have made — taking out the trees and with 12 (a new green placement), everything looks great. It really is fun feeling back at home when I come back here."
Jackson Chandler (Ohio State), Jake Griffin (Penn State), Isaac Simmons (Liberty), and Yaroslav Merkulov (Mid-am) are all in a tie for eighth place at -2.
Third round action for the 81st Monroe Invitational will kick off at 7:15 a.m. Admission is free to the public.